The Beautiful Image Facial & Body Sculpting System
Experience a revolutionary way to safely and effectively tighten and firm the skin!
This MICROCURRENT COSMETIC SYSTEM procedure goes beyond any conventional technology and as it is performed using exclusively designed facial and body sculpting wands. These "magic" wands glide over the treated area and emit a gentle microcurrent to the cells, rehabilitating and firming the facial muscles. The current penetrates deep into the face or body through the connective tissues of the skin via specific acupuncture points, thus causing increased production of collagen and elastin which smooth lines and softens wrinkles.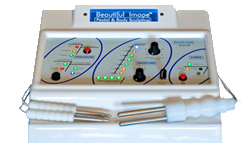 People all over the world are discovering a better way to achieve beautiful looking skin with a more natural look, and without the unnatural appearance that is often a result from cosmetic surgery.
Our procedures truly put the "TREAT" in treatment. The experience in itself is so wonderfully relaxing, that you may find yourself drifting off to sleep.
Expect to turn back the clock on aging. You will achieve overall improved skin quality and a natural youthful appearance with the advanced technology you attain from the Beautiful Image Microcurrent Cosmetic System.
Clients are able to see noticeable improvement after their very first visit. You can reap even greater benefits with the recommended number of additional treatments depending on your age and skin condition.
You can expect:
Revitalized skin tone and a smoother appearance
Diminshed fine lines and wrinkles on forhead, neck and chest
Firmer tummy, hips, buttocks and inner/outter thighs
Lifted, toned and tightened loose skin
Tighter and firmer facial contours
Improved pore size
Increased skin elasticity
Lifted and toned jowel muscles
Reduced cellulite